What does the beautiful mean? maybe sometimes you have the same question too...When the beautiful become a choose, absolutely We choose the most one. But what would you do if someone you really love doesn't love you too? Because what they feel on us is just ordinary feeling. Their beautiful wasn't good enough to be paired with us...That was the point which I want to express. And I have one more question, how many time do you dissapointed because of the beautiful reason and they don't love you?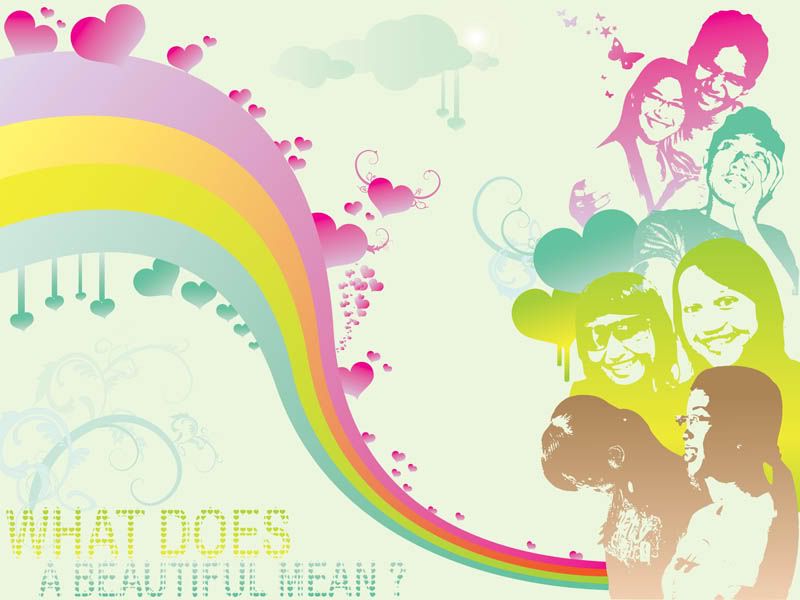 So, let's leave that question for a while and it's time to give some explanation to this design. It's my old design, I've made it on 2 years ago when the valentine days was came. I colleted some photos of my friends to represent the looks of the design. I've choose 4 photos and made them into black and white color. First, I've adjusted the contrast and brightness through level editing in Photoshop to create a good tracing then. After that, It's time to redesign on Illustrator. Compile all the photos, and trace it with autotrace option. Adjust the tracing option to result good and clear face shape.
The next step is adding some ornaments into the photos. Here I've made a rainbow ornament. Using the pen tool, and sketch a swirly curl shape. Repeat the action until you've got the rainbow shape, then color it with the RGB color. The others ornaments can be added to make some interesting looks of the design, such as the hearts shape, clouds, butterfly, and text to emphazise the visual coomunication of the design.
That's all, it's simple when you have a great inspirational design..isn't it? Keep stay tune for my new design. Wish you enjoy it...