Do you need a poster inspiration design? Here is one of my project design. I've made it to present the Pharmacy's Department anniversary on 31 July, next month. This design was inspired from a picture that I have taken from a design weblog (I was forgotten the name of the site). This design is fully mixed with Adobe Photoshop. 90% part of the design's effects was created by adding the Photoshop brushes.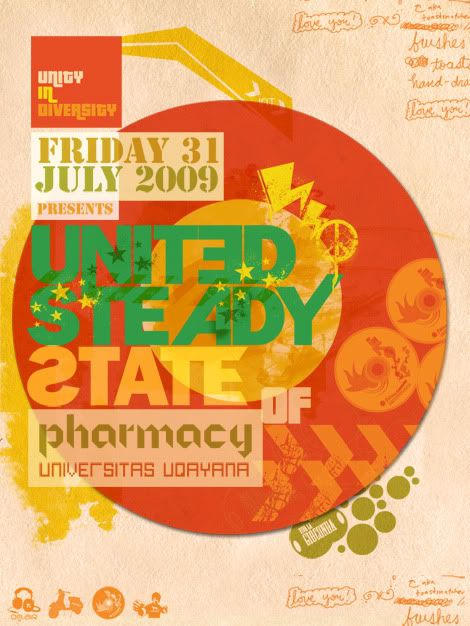 Let's we start to learn the brief explanation tutorial how to make this design. First, the basic image e.q the circle, type, and some others are made in Adobe Illustrator. Why I choose the Illustrator?Because it deliver an easy step to make a basic vector objects. On the poster's text, use a simple bold font, then edit it by moving some anchor point using the direct selection tools. You can also give some transformation on each letter for a better combination. After finished making the basic objects then copy it to the Photoshop. Paste as pixeled objects. Give some outer shadow effects to the big red circle to deliver a real compotition, and positioning it on the bottom of the layers. One tips that you can do is, don't copy all the basic objects at the same time. It will make you difficult to arrange the layer because when you have paste it on Photoshop, the objects became one part that cannot be separated.
The second is adding the brushes. On this part, absolutely you must have a lot of brushes collection especially the Grunge brush, Vintage brush, and any others that support your design projects. Some of the brush resources you can find here. Now, it's time to apply each brush to the canvas. Don't forget to make a new layer before you apply each brush. It will make you easy when you apply blending effects. There are two mayor layer groups, first make some brush layers above the text and below the text. The brush that apllied below the text, give it some multiply blending option to make it more tranparent. And that's all...it's quite simple, you just need the high quality brush to make it cruncy...Enjoy it on the next tutorial with some picture on each step...