Did you know that great design is come from a great mix between vector and raster graphic. Now, I've tried to deliver a new concept which combine vector and bitmap graohic into one pieces. Here is my new design, called 'Smiling Over Me'. Well the girl on this design is my friend, my classmate too. Actually she hates me because of some problems. I've backbite her on facebook by update her status by my self. She so angry because I've disturb her privacy.
Well, this design combine a traced photo with the bitmap image.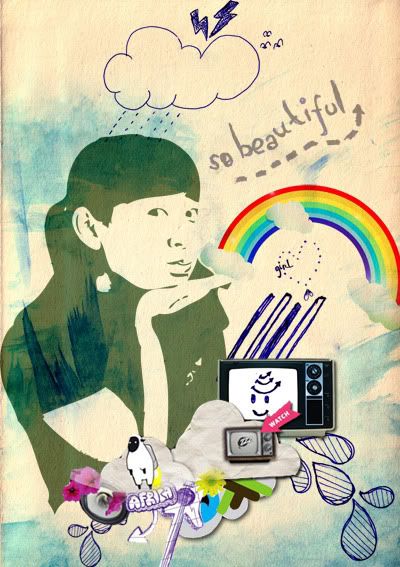 First, I've traced the girl's photo on Illustrator. Then the vector graphic was copied to Photoshop as pixel object. On the next step, you just need to add some cool ornaments to compile the design.
Here, I also added some of my hand drawing design that I've posted before. Simply I select some part of the hand drawing design the paste it on the canvas. Don't forget to set the blending option to be "Multiply". It will get a better look.
So, that's all. Pretty simple, no need much time to design it. Just select, copy and paste, then make a good layout on them....