I'm going wild, that's a bit explanation to represent my new artwork. It's yellow, blue, pink and black. Simply I want to represent my mind in a vector design. Actually it's like a landscape poster design, combine with a simple logos that belong to represent all of my mind. Positive, is the most powerful energy for me. It's bring me to the top of mindset, to discover more and more design. These puzzle-like design is present intricate of mind. Sometimes our mind are getting complicated while there's so much problems come to you. But as you stil can control it, you will find a way to solve what your problems solutions.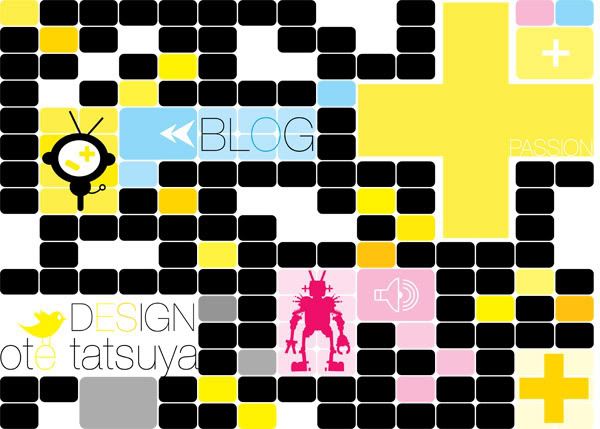 I've read the Roger Fritz's book, The Power of Positive Attitude. Really great book for me. It's raise my mind to be more attractive that ever. And you have to know that, when you can control your mind to think positive, you will gain so much energy around you. This energy will make you feel much better, no matter what you facing of...You will beat it all.
This design talk about the passion to designing that must be sounding to the whole world through the blog. I used some unique logos that I've created purposeless and some I've got from some design picture on the web design site. I've learned so much on Veerle's Blog tutorial. I've learned how to make a grid mask on illustrator. So that we can create the grid much more faster than you have to copy and paste it one by one.
May be you are asking..?What is the font that I've used in this design...I used the Helvetica LT 25 Ultra Light. It's the most thinnest font I've ever seen. But I like it so much. Thin is beautiful for me. Hope You like the design....