It's back with the bright retro grunge style design. I've just combine my photo combinations with the vector ornaments. I taken these photos on the afternoon when the sun was over my head. Why? because I wanto make a clear photos with high intensity of light. So that we don't need flash to create an great light effects.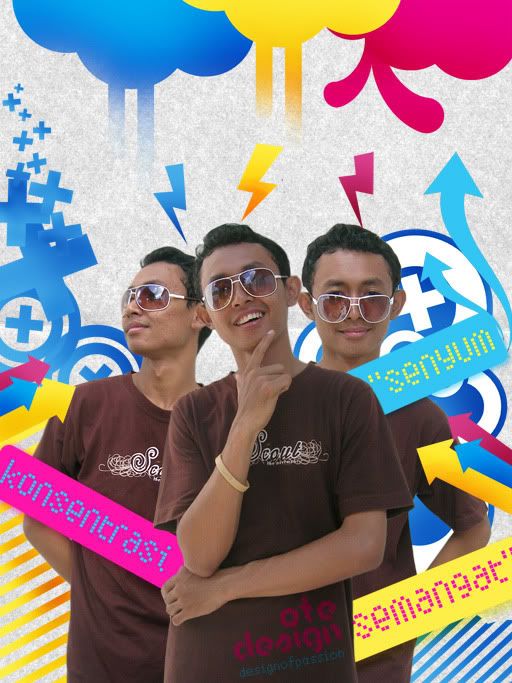 How do I made this design? It's pretty simple, you can do it on an simple step. First you have to provide some photos to be used for the focus of the design. You can use your own photos or you can download from your favorite stock photo's web provider. One of the great free photo's stock is on Stock Exchange, or may be on iStock Photo. Then compile it into one pieces with a different expression. You can make a people's photo that simply have a related emotion with each other, so you can easily make the visual communication as you desired.
The most important things that must be remembered is the model expression. It's important to rule what kinds of visual communication would you choose to. On this design, the models (my self) is expressing an smile, concentration, and a spirit. So, it's better to choose the one which match with what you thinks about the the design, what is the purpose and the visual control.
I prefer to reflected the blue, pink and yellow color. They have a powerful control to deliver great eye catching view of the design. The ornaments that I used was made on my design before. So I've just copy it into this design. So easy, and you just need find good positions to place each ornaments accurates to give the eyed catching design.
I think that all for this design. Wish I can make a lot of...with amile, concern, and spirit of my burnig desire.
See ya on the next post.